Hey!  I'm glad you found me; I'm Kate!  I'm a color loving artist with a passion for making people happy.  All items are handmade, hand painted with my handwriting & come ready to hang.  My average turnaround time is about two weeks. 
To request something custom- shoot me an email! 

Visit us in person at our new storefront!!!
The Common Ground
220 N State Road Medina, OH ::hours:: Friday 5-9/ Saturday 10-5/ Sunday 11-4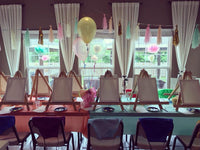 Paint Parties!
Let us come to you. We bring all the supplies, creative ideas, and a lot of patience.  We love to help you host the most fun parties.  Any age!  Canvas or wood!
Birthdays, corporate, ladies night, bachelorette parties, fundraisers and more!
For more information or to book please email me : katescolorfulcrafts@gmail.com